The American Telemedicine Association's 2016 report card on state telemental telehealth policies was released earlier this month, and gave eight states an A, but only one state, Colorado, an F.
The report identified existing policy barriers that impede telemental health and patient access to quality health care services. Each state was graded A, B, C, or F based on the following criteria:
Psychologist-patient encounter: Do policies recommend initial, in-person encounters?
Informed consent: Do states require additional patient informed consents before telehealth treatment?
Licensure & out-of-state practice: Do states require a full license when practicing across state lines during telehealth? If so, do they expedite this licensure process?
Psychology has a particularly fragmented, state-by-state, licensure approach, which makes telehealth adoption and use challenging for providers. Conflicting practice standards, restricted licensure portability, and disjointed policy leave psychologists unable to provide telemental and behavioral health care on a large scale.
The report card compares practice standards for telehealth across state psychologists, finding that decades of increasing telehealth use and demand have led to overhauls in policy for psychologists.  Within the past year alone, more than 25 states have considered proposals to revise standards and requirements for telehealth.
Eight states received an A" meaning they have strong policy supporting telemental telehealth adoption:
Mississippi
Missouri
Nebraska
Nevada
Oklahoma
Texas
West Virginia
Wisconsin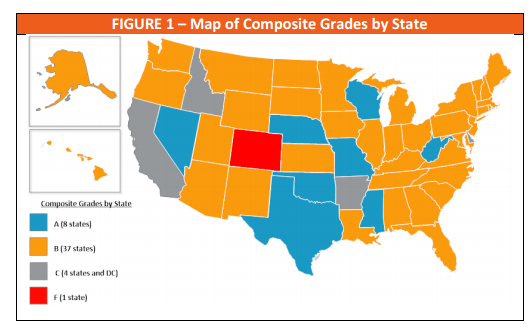 The association hopes the report will inform future policy decision-making, and help patients understand their state's telemental health policies/barriers and how they compare to other states.
"The GAPS report are an important tool for states to benchmark where they are in the telehealth regulatory spectrum," said Jonathan Linkous, CEO, American Telemedicine Association. "By enabling states to clearly see where they rank, relative to others, these states are then able to address each failing area one-by-one."
Read More About