Finland is rolling into the future of mass transit with the first driverless bus.
One of the world's first autonomous bus pilot programs has already begun in the Hernesaari district in Helsinki, and will run through mid-September. The pilot program uses the Easymile EZ-10 electric minibuses.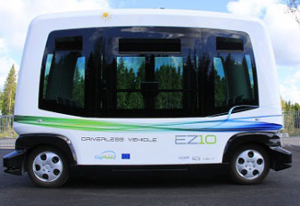 The EZ-10 minibus is designed for short-range travel, not long hauls. For example, the bus will be used to fill holes in the existing transportation system by doing trips such as carrying people between a metro station and bus stop
Finland is an ideal testing place for autonomous vehicles because Finland's legal system doesn't require vehicles on the road to have a driver–unlike many other countries.
"This is actually a really big deal right now," Harri Santamala, project manager at Metropolia University of Applied Sciences and the test project lead, told a local news outlet. "There's no more than a handful of these kinds of street traffic trials taking place, if that."
If the program is successful in Finland, it's expected that the buses will be added to existing public transit options. "Their purpose is to supplement but not to replace it," Santamala said. "For example, the goal could be to use them as a feeder service for high-volume bus or metro traffic….In other words, the minibus would know when the connecting service is coming and it would get you there on time."
This isn't the first pilot program for driverless buses in Finland. However, previous programs have not been tested on streets being used by other vehicles, so this is the first time cars, trucks, and other buses will have to navigate behind the autonomous buses–whose average speed is just over 6 mph.
The success of the Finnish program could have repercussions on mass transit in cities across the globe. While driverless cars have gained media coverage in the United States, there hasn't been any widespread adoption of driverless technology
Rather, in the U.S., autonomous vehicle operation remains subject to state laws–and those laws can vary widely. Since 2011, eight states have authorized the operation of autonomous vehicles–Nevada, California, Florida, Louisiana, Michigan, North Dakota, Tennessee, and Utah–and Washington D.C. have also passed legislation related to autonomous vehicles.
There are also investments happening at the Federal level. In January, U.S. Department of Transportation Secretary Anthony Foxx announced a 10-year, almost $4 billion investment in pilot programs designed to accelerate the development and adoption of safe vehicle automation. Through the program, the Department of Transportation will work to remove potential roadblocks to the integration of innovative automotive technology that can improve safety, mobility, and sustainability, a release stated.
However, the integration of driverless vehicles into mass transit is far from a sure thing. Outside Federal programs and changing state laws, there are additional obstacles. First is cost. Driverless vehicles are extremely expensive–partially because the technology is still in its infancy. However, as many cities are struggling financially, there will be little money to overhaul mass transit with more expensive vehicles. To get around this expense, either vehicle makers will need to drop costs dramatically, or there will be continuing Federal or nonprofit grants to fund the adoption of driverless vehicles.
Additionally, public support and buy-in is essential. In order for driverless buses to be successful, the public needs to feel confident in their safety. While this will be assured through continuing pilot programs and positive media coverage, it is a hurdle that cities will need to overcome.
While driverless vehicles offer an interesting and very futuristic option for mass transit, there is much testing that needs to be done. However, smart city government officials will keep their eye on Finland for the time being.
Read More About