The Office of the National Coordinator for Health Information Technology (ONC) and the Department of Health and Human Services Office of Civil Rights (OCR) recently released an infographic, "Your Health Information, Your Rights," to provide health consumers with facts on an individual's right to access their medical records, examples of how to obtain medical records, and tips for protecting health information.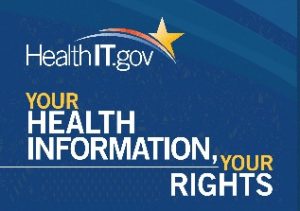 Despite eight in 10 individuals who have viewed their health information online saying the information was useful, 41% of Americans have still never even seen their medical record.
The Health Insurance Portability and Accountability Act (HIPAA), which gives health care consumers the right to access their health information, was passed in 1996, yet the infographic shows that 27% of individuals were unaware or didn't believe they had a right to an electronic copy of their medical record.
"We must engage individuals in order to advance the safe and secure flow of health information," said Tom Mason, Chief Medical Officer, ONC.
The infographic also provides a series of tips on how to gain access to and safely share medical information, including:
You cannot be refused access to your health information because you haven't paid your medical bill.
Your provider is no longer responsible for the security of your health information after it is sent to a third party.
The ONC also released a series of short, educational, consumer-oriented videos on the healthit.gov site. These videos help individuals better understand their rights to see medical records and have that information sent to third parties under HIPAA.
The first video gives a very high-level overview of individuals' rights under HIPAA, including what information comes in a medical record.
The second video follows Hannah, who is moving across the country and asks to have a copy of her records to bring with her. It explains how records may be delivered, security risks, associated fees, and more.
The third video follows Martin, who would like to take the information from his health record and share it with a heart health application on his smartphone. It explains that doctors are required to send medical records to any third party, including applications, if requested.
"The videos we released today highlight the basics for individuals to get access to their electronic health information and direct it where they wish," said Lucia Savage, Chief Privacy Officer, ONC.
ONC and OCR will continue to work together to provide individuals with easy access to their health information, empowering health care consumers to be more in control, better understand and stay on track with treatment plans, and continually monitor chronic conditions.
Read More About